Miami Attorney Richard "Bo" Sharp Secures Rare $12M Federal Tort Settlement After Baby Went 22 Minutes Without Air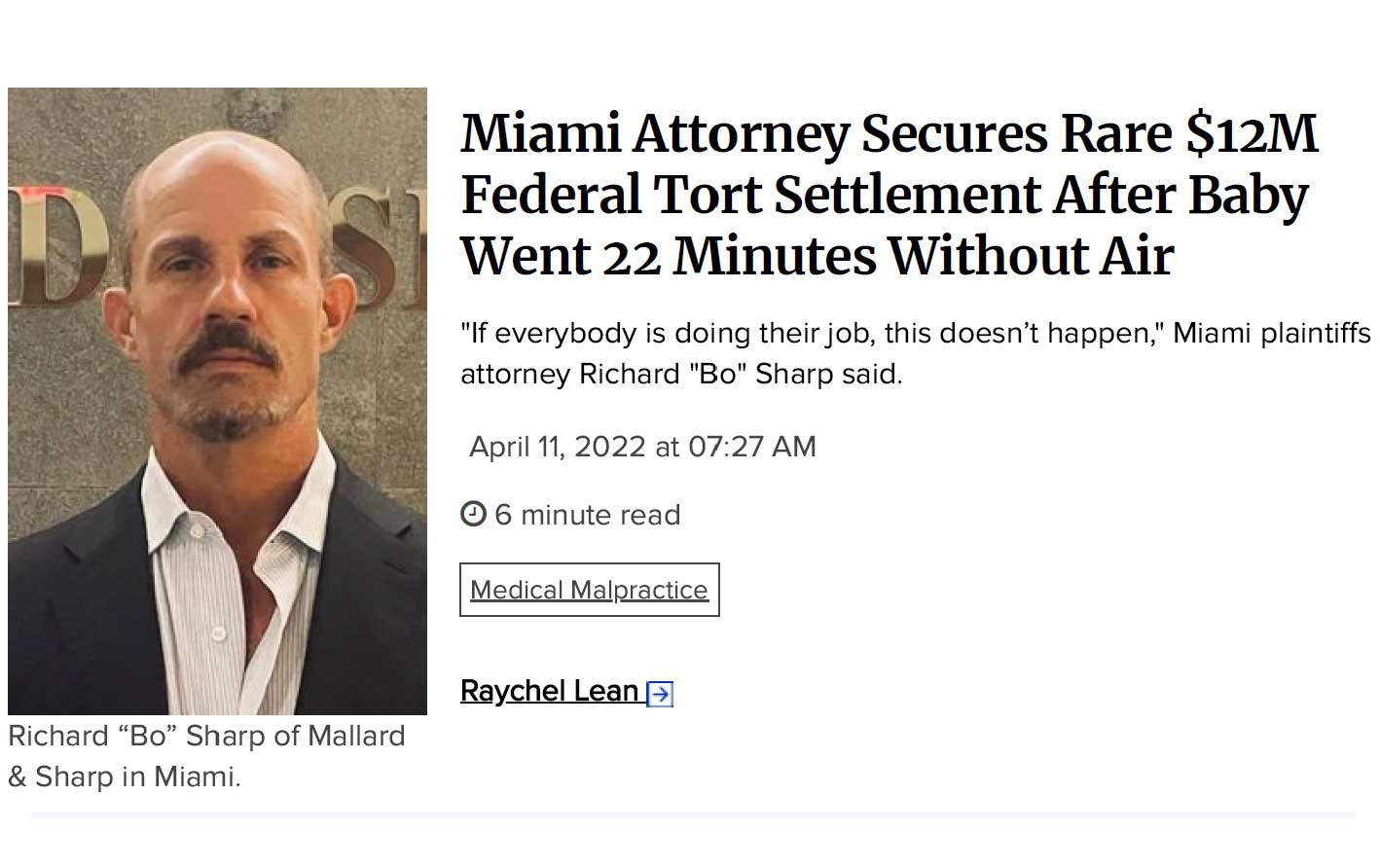 Original Source: Law.com April 11, 2022 at 07:27 AM by Raychel Lean:
Miami attorney Richard "Bo" Sharp has negotiated a $12 million settlement with the U.S. government for the family of a newborn baby who suffered severe brain damage after going 22 minutes without breathing, allegedly because of a nurse midwife's negligence.
It's one of the largest—if not the largest—Federal Torts Claim Act settlements of its kind in Florida, according to lead counsel Richard "Bo" Sharp of Mallard & Sharp in Miami.
Sharp credits his success to depositions, in which a nurse midwife reportedly admitted breaching the standard of care and a doctor agreed.
"After 20-plus years of practice, I don't recall that ever happening with a primary defendant," Sharp said. "I think it was cathartic for her [the nurse midwife], to some extent, because she'd been carrying it around for a couple of years."
With Orlando attorney Scott McMillen, Miami Attorney Richard "Bo" Sharp represented parents La Shanta and Jonathan Hacking, who went to St. Lucie Medical Center in Port St. Lucie to deliver their baby at about 4 a.m. on Nov. 19, 2017.
And though Sharp said it wasn't a high-risk birth, the baby's fetal heart rate showed multiple decelerations, or temporary drops, throughout the day. That suggested compromised oxygen and blood flow because of possible umbilical cord constriction, according to the lawsuit.
"Decelerations are bad," Sharp said. "There are basically two ways to look at a strip. It's either reassuring or non-reassuring. And decelerations are typically non-reassuring, meaning you can't just look at the strip and feel that a child's going to be OK without any type of operative delivery."
The baby, identified as L.A.H., needed emergency delivery, according to Sharp. He alleged hospital employees failed to recognize that and, by the afternoon, the fetal heart rate monitoring strip suggested the baby was suffering from asphyxia, hypoxia and likely brain damage.
La Shanta Hacking saw Dr. Charles Zollicffer around 9 a.m. and he continued to monitor her from home, while nurse midwife Charlyn Ann Rupke Coleman was there throughout the day. They work for Florida Community Health Centers Inc., which receives government funding.
Coleman didn't contact Zollicoffer until around 4 p.m., according to the lawsuit, which said her note included no mention of concern for the baby or mother. Zollicoffer arrived at 5 p.m. and delivered the baby by episiotomy.
L.A.H. wasn't breathing when she was born with an umbilical cord wrapped around her neck.
"The child was resuscitated at 5:26 p.m., so she had gone 22 minutes with chest compressions and you can imagine what kind of impact that will have to a child's brain," Sharp said.
Now 4 years old, L.A.H. has cerebral palsy and severe brain damage, meaning she'll always require 24-hour care. But plaintiffs' experts found if Coleman had called the doctor just a couple of hours earlier, she would likely have been OK.
"That's Bad"
The litigation involved 55 depositions and another 16 in a related state court case against the medical center. It's the most Sharp has ever taken for one case, but luckily they were remote.
"If I had 40 expert depositions, I wouldn't see family, friends, anyone for, you know, three months. So, I hate to say it, but one of the few things to come out of COVID … it did make litigating the case more bearable because it was purely done by Zoom."
Sharp and McMillen used Coleman's deposition to focus on the baby's 11 hours of heart rate tracing, questioning her about every single testing strip.
"Once we had gone through about six or seven hours of strip, finally, it just started getting so bad that she was like, 'You know what? You're right, that's bad.' She got to the point [around 3 p.m.] where she acknowledged she did not have an excuse why the deceleration could be affected," Sharp said. "It's something that, really, the providers have to be looking at. That's why there are so many checks and balances. You've got the nurses who are looking at it, then you have the nurse midwife and the doctor. If everybody is doing their job, this doesn't happen."
Coleman also acknowledged she had a duty to recognize medical emergencies and admitted being at fault, according to Sharp, who said he suspects that played a major role in the decision to settle.
"Obviously, when the primary defendant on which the claim is based concedes that she was negligent, that's compelling," Sharp said. "I don't have any harsh words to say. I think [the government] made a decision to attempt to do the right thing and I think they did their best from their standpoint."
Assistant U.S. Attorneys Wendy Jacobus and Frank DeLuccia in Miami defended the lawsuit. Their office declined to comment on the settlement.
The settlement covers the federal government, the Florida Community Health Center and its employees, including Coleman and Zollicoffer. It doesn't release St. Lucie Medical Center and its employees.
"A Wolf In Sheep's Clothing?"
The defendant might also have been aware that Miami Attorney Richard "Bo" Sharp previously landed a $33.8 million verdict over a newborn baby's brain damage in Dixon v. U.S.A., after the government offered less than six figures. It remains the largest Federal Tort Claims Act verdict in Florida and the largest collected verdict in Miami-Dade County, according to Sharp, who said it became $26.2 million after appeal.
That's a rare result, in Sharp's experience, as such cases are often diverted to the Florida Birth- Related Neurological Injury Compensation Association, which manages state funds used for the care of children and adults born with certain neurological injuries.
But Miami Attorney Richard "Bo" Sharp characterized it as "a wolf in sheep's clothing," alleging many eligible families are never told about it and many that are have been declined coverage: "Although changes to NICA have been made in recent years, the NICA system is still flawed and serves to add insult to the injuries these babies and their families have suffered."